Zambia
SPLASH (WASH in Schools)
A USAID/Zambia funded WASHplus activity known as SPLASH (Schools Promoting Learning Achievement through Sanitation and Hygiene) is underway in Zambia to support the Ministry of Education to bring clean drinking water, sanitation and hygiene education to primary schools in Eastern Province.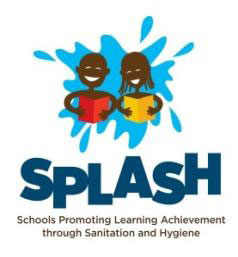 The goal of SPLASH is to improve health, learning and performance of primary school pupils and teachers by providing a cleaner and safer learning environment. Project activities focus on provision of safe water and adequate sanitation and the adoption of better hygiene practices. SPLASH is part of the USAID/Zambia Education Team's portfolio that includes other projects designed to strengthen the MOE institutional, teacher and pupil performances, especially in reading achievement. SPLASH contributes by tackling student attendance and dropout rates, teacher attrition, and overall health and well-being. SPLASH also aims to strengthen local operations and maintenance and management capacity by offering innovative solutions to commonly encountered technical and organizational problems, and linking school efforts to community development and ownership. (More-SPLASH one pager)
Girls and female teachers are disproportionately affected by poor access to sanitation. SPLASH's comprehensive school-based menstrual hygiene management program trains teachers and provides them with materials for counseling and supporting girls and involving their families. Schools are encouraged to stock sanitary pads along with other hygiene consumables, and girls' latrines are equipped with washrooms.
SPLASH embeds WASH in the MOE system. The official School Monitoring Instrument now has an extensive WASH section that includes MHM and O&M, and WASH is part of the new curriculum. SPLASH supports the integration through teacher in-service training and provision of materials.
Interactive SPLASH Feature: Let Kids Learn
| | |
| --- | --- |
| | Let Kids Learn: Boosting Opportunity for Girls and Boys through WASH in Schools. Clean water, adequate sanitation and proper hygiene require appropriate facilities and an awareness of good practices. Through the SPLASH partnership, CARE International supports the construction of boreholes and sanitation facilities, while FHI 360 supports teacher training and curriculum development. Local ministries, nongovernmental organizations and communities take it from there. Read more. |
SPLASH Documents
SPLASH in the News